How to use local fonts in Google Docs / Sheets / Slides
September 27, 2020
(Updated on July 25, 2021)
Currently, we can use Google Fonts in our Google Drive document including Google Docs, Google Sheets, and Google Slides by selecting More fonts in the font menu dropdown menu.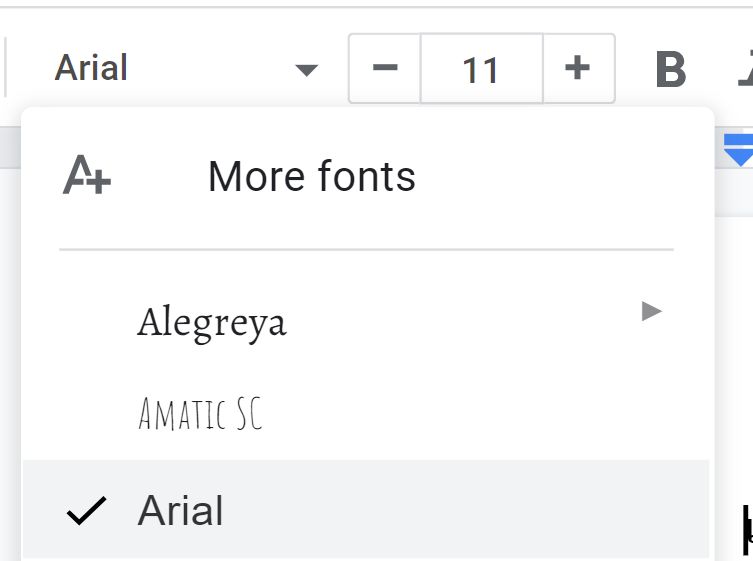 However, if we would like to use a local font from our computer, Google only supports some fonts.
The local fonts is categorized by language and will be available when all these conditions are met:
That font is

supported

by Google.
We have

set the document language

to match that font.
We have that font installed locally. If we open the document on another machine that the font is not installed, our document will be formatted weirdly.
After we have completed the setup process, local fonts will be available immediately in the font dropdown menu
.
For Google Docs and Google Slides, File top-left menu > Language.
For Google Sheets, File top-left menu > Spreadsheet settings > General tab > Locale.
Here is the list of the supported local fonts by language.
Arial
Comic Sans MS
Courier New
Georgia
Impact
Times New Roman
Trebuchet MS
Verdana
Arabic Typesetting
Sakkal Majalla
Simplified Arabic
Traditional Arabic
Al Bayan
Baghdad
DecoType Naskh
KufiStandardGK
Nadeem
Aparajita
Kokila
Mangal
Utsaah
Devanagari MT
Aharoni
David
FrankRuehl
Gisha
Levenim MT
Miriam
Narkisim
Rod
Arial Hebrew
Corsiva Hebrew
New Peninim MT
Raanana
Meiryo
MS Gothic
MS Mincho
MS PGothic
MS PMincho
HiraMaruPro-W4
HiraMinPro-W3
HiraKakuPro-W3
HiraMaruProN-W4
HiraMinProN-W3
HiraKakuProN-W3
Batang
Batangche
Dotum
Dotumche
Gulim
Gulimche
Gungsuh
Malgun Gothic
GungSeo
HeadLineA
PCMyungjo
Pilgi
Angsana New
AngsanaUPC
Browallia New
BrowalliaUPC
Cordia New
CordiaUPC
DilleniaUPC
EucrosiaUPC
FreesiaUPC
IrisUPC
JasmineUPC
KodchiangUPC
Leelawadee
LilyUPC
TH Sarabun PSK
TH SarabunPSK
Ayuthaya
Krungthep
Sathu
Silom
Thonburi
TH Sarabun OFL
SimSun
SimSun-ExtB
SimHei
NSimSun
Microsoft Yahei
FangSong
KaiTi
Hei
Heiti SC
Kai
STFangsong
STHeiti
STKaiti
STsong
PMingLiu
PMingLiu-ExtB
MingLiu
MingLiu-ExtB
Microsoft JhengHei
DFKai-SB
BiauKai
Heiti TC
LiHei Pro
LiSong Pro
PMingLiu
PMingLiu-ExtB
MingLiu
MingLiu-ExtB
Microsoft JhengHei
DFKai-SB
BiauKai
Heiti TC
LiHei Pro
LiSong Pro